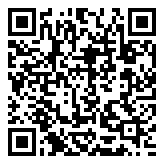 Date
Jan 17 2023
Expired!
Time
PST
5:00 pm - 6:00 pm
Teen Mental Health: The Changemakers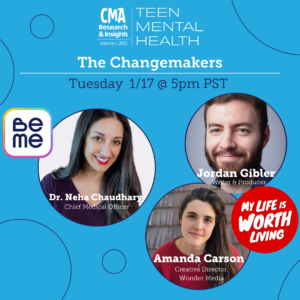 Join us for a conversation with the Changemakers! An important conversation with the producers & writers of the award winning YouTube series My Life is Worth Living, and the team behind the BeMe mobile mental health platform
My Life is Worth Living is produced by THE COOK CENTER FOR HUMAN CONNECTION and WONDER MEDIA.
 BeMe— made for and With Teens In Mind™ — to improve teen well-being by bringing together the best aspects of social, gaming and streaming engagement along with human coaching and clinical care.
Dr. Neha Chaudhary is a child and adolescent psychiatrist from Harvard and Massachusetts General Hospital and the Chief Medical Officer of BeMe Health, a digital mental health platform for teens. As a clinician innovator, she builds creative, inclusive, clinically-informed products and programs that boost resilience and help teens thrive. She has advised mental health startups, big tech companies, and nonprofits and is frequently featured as an expert, writer, and mental health advocate in the mainstream media, from The New York Times to World News Tonight.
Derek E. Baird is the Chief Youth Officer at BeMe Health. He is the author of The Gen Z Frequency: How Brands Tune In and Build Credibility. He previously worked at The Walt Disney Company, receiving a Disney Inventor Award for a patent on children's digital technology and online privacy. 
Amanda Carson: As Creative Director of Wonder Media, Amanda has developed and produced a diverse slate of award-winning and nationally recognized animated web series for kids and teens. This includes short films Are You Okay? and Is Anybody Out There? for the Barbara Sinatra Children's Center Foundation as well as the My Life is Worth Living series for the Cook Center for Human Connection and more. Amanda's work with experts in mental health, suicide prevention, abuse prevention, and emergency preparedness has solidified her mission to use animation to foster deeper communication and a greater understanding of the mental health needs of kids, teens, and their caregivers.
Jordan Gibler: Jordan Gibler is an LA-based screenwriter and producer with extensive background developing socially-conscious web series for properties including the Global Institute for Habits of Mind, the Barbara Sinatra Children's Center Foundation, and the Cook Center for Human Connection. Jordan's experience writing engaging stories for children and teens has helped elevate the vital social initiatives that Wonder Media pursues. With viewership in the hundreds of millions, these unique series give young people access to meaningful, relevant, and representative stories and the hard-to-talk-about situations that are prevalent in homes but rarely depicted in traditional media.