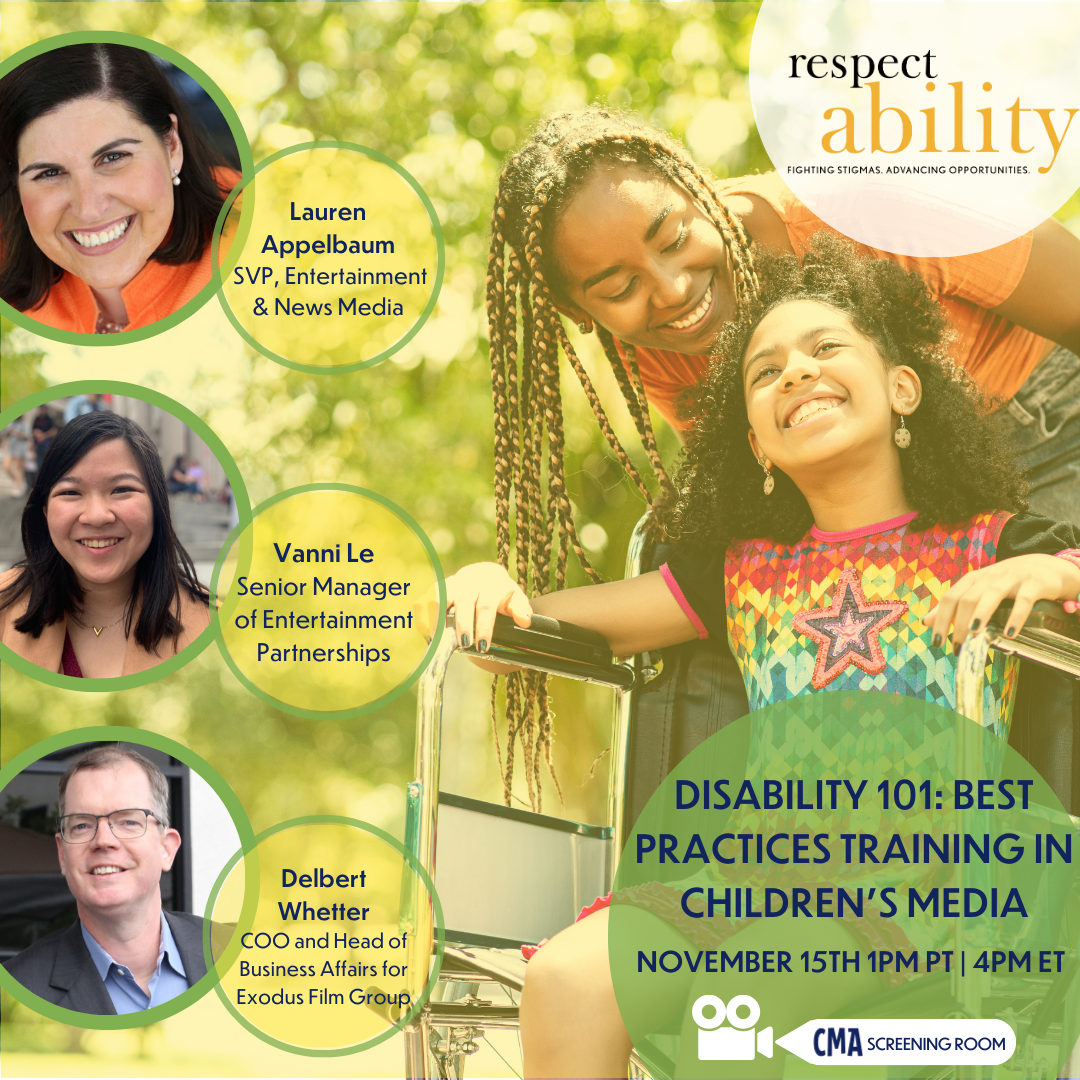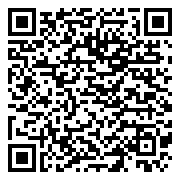 Date
Nov 15 2023
Expired!
Time
1pm PT/ 4pm ET
4:00 pm - 5:00 pm
Disability 101: A Training to Ensure Best Practices in Children's Media
Fewer than 1 percent of leading characters in children's television have a disability, in stark contrast to the 20 percent in the world. Including a disabled character doesn't happen by accident. Content that accurately portrays children with disabilities removes stigmas surrounding disability, providing an important educational opportunity. In this training, learn how to create more authentic disability-inclusive content and view best practices – from preschool to tween, animation to live-action. Attendees will learn negative tropes to avoid when including characters with disabilities. In addition, attendees will receive a lexicon to utilize while writing and a resource guide to help while creating disability-inclusive content.
Trainers include:
Lauren Appelbaum, SVP, Entertainment & News Media, RespectAbility
Delbert Whetter, Chief Operating Officer and Head of Business Affairs for Exodus Film Group and Vice Chair, RespectAbility Board
Vanni Le, Senior Manager of Entertainment Partnerships, RespectAbility
Lauren Appelbaum
 is the SVP, Entertainment & News Media, at RespectAbility, a diverse, disability-led nonprofit that works to create systemic change in how society views and values people with disabilities. As an individual with an acquired nonapparent disability – Reflex Sympathetic Dystrophy – she conducts trainings on the why and how to be more inclusive and accessible for entertainment executives throughout the industry. She has worked on more than 100 TV episodes and films with 9 Story Media Group, DreamWorks Animation, NBCUniversal, Netflix, Nickelodeon, Paramount, The Walt Disney Company, and Warner Bros. Discovery, among others. A few examples include Netflix's 
The Healing Powers of Dude
 (2020), Disney's 
Firebuds 
(2022-2023), Disney's 
The Ghost and Molly McGee
 (2023), and Netflix's 
Mech Cadets
 (2023). She is the founder of RespectAbility's 
Entertainment Lab
 and 
Children's Content Lab
, with goals of building the disability community within the industry and connecting Lab Fellows to opportunities as writers, directors, and in below-the-line positions. In 2022, Appelbaum created the Children's Content Lab specifically to provide education and training for disabled TV writers and creative executives interested in creating preschool and children's television and streaming content. This work helps increase diverse and authentic representation of disabled people on screen, leading to systemic change in how society views and values people with disabilities.
Delbert Whetter
 is the Chief Operating Officer and Head of Business Affairs for Exodus Film Group. He served as the lead business affairs executive for numerous entertainment and digital content providers for nearly two decades. He has worked on Exodus animated features, 
IGOR
, 
The Hero of Color City
, and 
Bunyan & Babe
, receiving Co-Executive Producer credit on Exodus' two recent films. Whetter serves as Vice Chair on the Board of Directors of RespectAbility, a national nonprofit organization that works with Hollywood to promote inclusion, representation, and authentic portrayals of people with disabilities in media. He also serves on the Disability Advisory Board of SFFILM. He was appointed in 2018 by the City of Santa Monica to serve a four-year term on its Disabilities Commission and currently serves as its Vice Chair. He is frequently engaged to consult, speak and conduct trainings at numerous entertainment studios, companies and organizations including Hollywood, Health & Society, Walt Disney Studios and its affiliated film/television entities, NBC, DreamWorks Animation, Netflix, and Six Flags Theme Parks. Whetter is executive producing the upcoming animated feature film 
Pierre the Pigeon-Hawk
, starring the voices of 
will.i.am
, Jennifer Hudson, Snoop Dogg, Howie Mandel and Whoopi Goldberg.
Vanni Le
 is the Senior Manager of Entertainment Partnerships
at RespectAbility. She focuses on fighting stigmas by ensuring authentic representations of people with disabilities in film and television. Le brings brand strategy and program management experience from both the entertainment and nonprofit fields, having previously worked at the Walt Disney Studios, Sony Pictures Entertainment, the Annenberg Inclusion Initiative, March of Dimes, and most recently A+E Networks. Le strives to effect social change and champion diversity and inclusion in industries with underrepresented communities. Her passion for diverse representation in media (and lack thereof) is her drive for pursuing a career in entertainment. As someone with low vision and a recent diagnosis of ADHD that was previously misdiagnosed as mild anxiety disorders, she also recognizes the importance of authentic portrayals of disabilities and general mental health in media. Le is a first-generation, low-income graduate of the University of Southern California (M.S. Digital Social Media and B.A. Public Relations), where she empowered and advocated for higher education and post-graduate success as president of QuestBridge, admissions interviewer, and student government first-gen advisor.
Sold out!